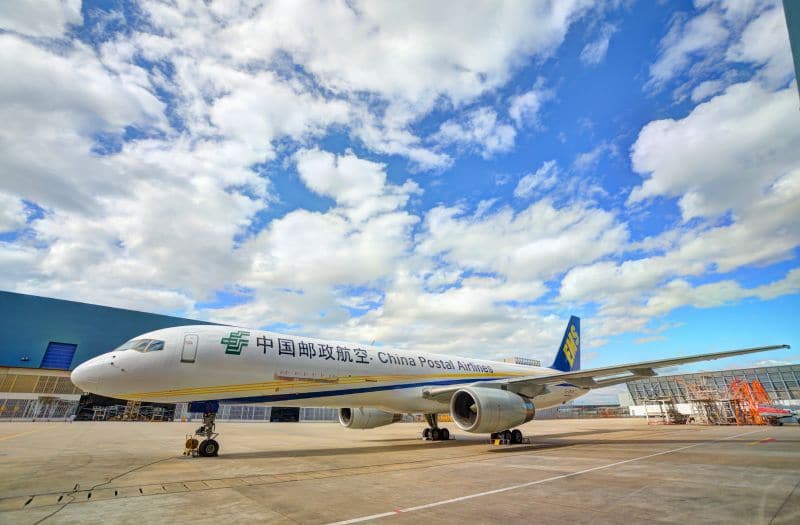 China Postal Airlines has taken redelivery of its seventh 757-200PCF (32342, ex-China Southern Airlines) [FAT 005277] following conversion to freighter configuration by Precision Aircraft Solutions. The aircraft is the final conversion of a batch of seven ex-China Southern 757-200s acquired from Boeing in December 2015.
Precision Aircraft Solutions confirmed to Cargo Facts that it had converted unit 32342 at the HAECO Xiamen facility in Xiamen (XMN). The aircraft was originally delivered in passenger configuration to China Xinjiang Airlines in 2001, then became part of the China Southern fleet when the Urumqi-based airline became a subsidiary of China Southern in 2004.
China Postal's first 757-200PCF (25598, ex-China Southern) was redelivered at XMN in October 2016. Precision has also converted at least one 757 (25888) for China Postal at the Ameco facility in Chengdu (CTU).
In addition to China Postal Airlines' seven own-operated 757-200PCFs, Air China Cargo also operates all four of its Precision-converted 757-200PCFs (27258, 27367, 29792 and 29793) on an ACMI basis for China Postal.
Apart from unit 32342, China Postal's other additions in 2019 were two 737-800BCFs, unit 30786 (ex-China Southern) in August and 30787 (ex-China Southern) in September. These are the first two out of the ten 737-800BCF conversions that were also ordered as part of the December 2015 agreement with Boeing.
During 2019, the airline also retired a 737-300F (25172) which subsequently joined the fleet of new startup Mongolian Airways Cargo in July.
Join us Feb. 3-5 for Cargo Facts EMEA 2020, the event serving as an international platform providing attendees with a direct connection to leading EMEA innovation executives. To register and for more information about the event, visit www.cargofactsemea.com.