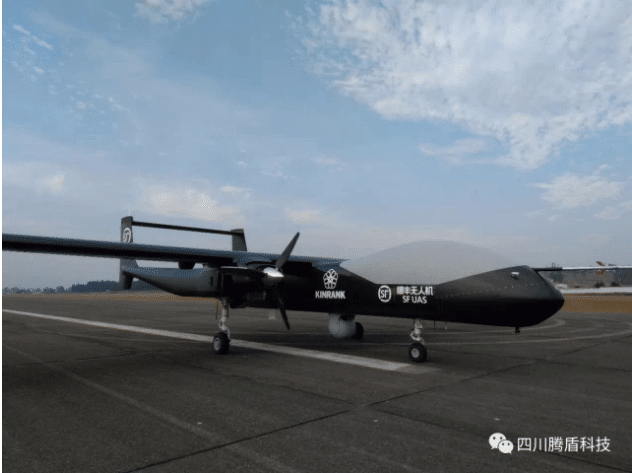 Yesterday, the eastern bureau of the Civil Aviation Administration of China (CAAC) granted Jiangxi Fengyu Shuntu Technology Co., Ltd., a subsidiary of SF Holdings, the first domestic UAV Aviation License. With the license, SF Logistics now has the legal authority to operate and expand the scale of its delivery drone delivery pilot operations, which began in June 2017. Previously, SF and other companies piloted drones according to stipulations outlined by local authorities.
In the near-term, SF's priority with last-mile drones will be to improve the speed and reliability of deliveries in sparsely populated or geographically challenging regions of the country. As the regulatory environment warms to drone operations, SF ultimately envisions unmanned aircraft playing a central role in a three-stage point-to-point delivery model the company is working towards.
According to the model, SF assumes piloted freighter aircraft will continue handling domestic trunk routes, but upon arrival at the destination airport, drones will begin to take over many of the onward transportation segments. Instead of trucking or using a regional feeder freighter to move from a tier-1 airport to a tier-2 or tier-3 city, SF wants medium-sized drones to interline with its freighter fleet to carry cargo onward to regional delivery centers where smaller final-mile drones will ultimately handle the last leg of delivery.
As demonstrated by SF's pilot operations, last-mile delivery drone technology is already quite mature – and larger drones may not be too far off. SF Express been working with drone developer Tengoen (Tengdun) to develop a modified commercial version of the TB-001 Scorpion military drone. Instead of carrying missiles, however, the 3.3-tonne model carries cargo in delivery pods which can be para-dropped from the sky.
China's commercial drone ambitions do not stop with SF – the country's top e-tailers including Alibaba and JD.com are both involved in various pilot projects. JD is already conducting regular drone deliveries to more than 30 villages in Suqian, Jiangsu, Hancheng and Shaanxi. For more on those operations, see 9 things we learned during our trip to China.
Then, earlier this week, JD Logistics, in conjunction with the company's innovation lab JD X, opened the company's first drone delivery station in Hainan Province's capital city Haikou. To overcome the difficulties associated with navigating Hainan's unique terrain, JD is already planning to add three additional drone bases across the island near the cities of Zhangzhou, Qiongzhong and Baoting. Further ahead, JD also sees potential in larger drones, and in Hainan's case, particularly for use in facilitating cross-sea deliveries.
Those interested in hearing more from SF Express or JD.com regarding their planned use of drones, or unique insights from Airbus, Boeing, Flexport and Hybrid Enterprises about future freighter technologies, should join us in Shanghai 23-25 April for Cargo Facts Asia. For more information, or to register, visit www.cargofactsasia.com